Colby College
---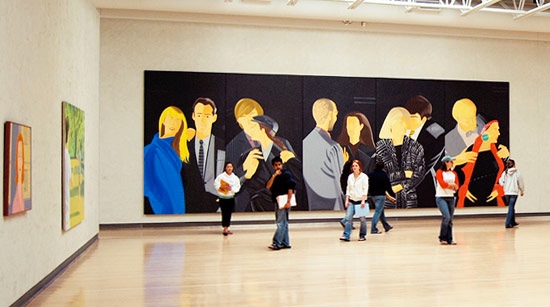 On October 11, 1996, the
Colby College Museum of Art
in Waterville, Maine, opened a new wing dedicated to the work of Alex Katz. The artist donated over 400 pieces to the Museum's collection, including major oil paintings, cutouts, collages, prints, and drawings. The Paul Schupf Gallery for the Works of Alex Katz was made possible through the generosity of Colby Trustee Paul Schupf, who contributed $650,000 toward the cost of the building as well as several large paintings. Colby's collection now includes nearly 700 Katz works, including his entire print oeuvre. Archive material related to the Katz Collection is held by
Colby's Special Collections
and is available to students and researchers by appointment.
The wing was designed by renowned architect Max Gordon to display a revolving selection from the Katz collection. The plans were completed shortly before the architect's death; it was one of his last commissions. Gordon designed the Saatchi Gallery in London and was described in The New York Times as "an architect internationally known for his mastery of exhibition spaces" and " the architect of choice for museums, dealers' galleries, and private collections."
The wing takes up 10,000 square feet and consists of two 70' by 36' galleries, two 36' by 36' galleries, and a storage area. Included in Katz' gift to the Museum are a complete set of his prints through 1993, books, awards, materials from his collaborations with choreographer Paul Taylor, and a set of books, catalogues, and articles on the artist, making it an invaluable research source for scholars and students.
The inaugural exhibition included 17 large paintings, 12 small paintings and oil studies, seven finished portrait drawings, two cutouts, one cartoon, and 24 prints. An illustrated catalogue of the exhibition, with an essay by New York Times critic John Russell, is available from the Museum.
Founded in 1813, Colby is the 12th oldest liberal arts college in the United States. The Colby College Museum of Art was created in 1959. Under the leadership of Hugh Gourley III, who became its first full-time director in 1966, the museum has become widely recognized for its collection and exhibitions. The Museum has an excellent collection of the work of American Modernist John Marin, as well as John Copley, Marsden Hartley, Winslow Homer, Louise Nevelson, Farfield Porter, and contemporary artists Jennifer Bartlett, Francesco Clemente, Chuck Close, Martha Diamond, Rackstraw Downes, Eric Fischl, Yvonne Jacquette, Sol Le Witt, Brice Marden, Joel Shapiro, Hunt Slonem, Mark di Suvero, and Andy Warhol, among others.
Katz first went to Maine 1949, when he received a Cooper Union scholarship to study at the Skowhegan School of Painting and Sculpture. Katz was introduced to Colby in the 1950s and has continued his relationship as a summer resident of Lincolnville, Maine, since 1954. Alex Katz received an honorary doctorate from the College in 1984.