Timeline
---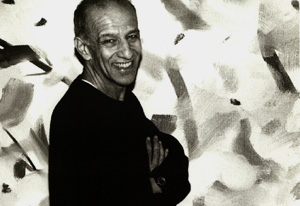 1927

Born July 24 in Brooklyn, New York.

1928

Moves to St. Albans, Queens.

1946-49

Studies at The Cooper Union, New York.

1949-50

Studies at Skowhegan School of Painting and Sculpture, Skowhegan, Maine.

1954

First one-person show at Roko Gallery, New York.

1955

Makes first collages.

1968

Moves to present home and studio in New York.

1974

Alex Katz Prints, a traveling exhibition organized by The Whitney Museum of American Art.

1986

Alex Katz, a traveling retrospective exhibition organized by The Whitney Museum of American Art.

1988

Alex Katz: A Print Retrospective at the Brooklyn Museum of Art.

1995

Alex Katz: American Landscape at Staatliche Kunsthalle, Baden-Baden, Germany.

1996

Alex Katz at I.V.A.M. Centre Julio Gonzalez, Valencia, Spain.

Alex Katz: A Drawing Retrospective, a traveling exhibition at Munson-Williams Proctor Institute, Utica, New York.

Alex Katz Under the Stars: American Landscapes 1951-1995, organized by the Institute for Contemporary Art/P.S. 1 Museum.

1998

Alex Katz: Twenty-Five Years of Painting at The Saatchi Collection, London, England, January 15 - April 12.

1999

Alex Katz at Galleria Civica Di Arte Contemporanea, Trento, Italy, November - January.

2000

Regarding Alex Katz at Carnegie Museum of Art, Pittsburgh, PA, July 15 - September 10.

2001

Alex Katz Small Paintings traveling exhibition organized by the Whitney Museum of American Art, the Addison Gallery of American Art, and the Kemper Museum of Contemporary Art.

2002

Alex Katz- In Your Face at Kunst-Und Ausstellungshalle Der Bundesrepublik, Bonn, Germany, May 9 - August 18.

2003

Alex Katz - Cutouts at Deichtorhallen Hamburg, Hamburg, Germany, February 13 - April 27.

2004

Alex Katz: Cartoons and Paintings at the Albertina Museum Vienna, Austria, December 16, 2004 - February 20, 2005.

2005

Alex Katz at the Centro de Arte Contemporaneo, Malaga, Spain, March 4 - June 12.

Alex Katz' Collages at the Colby College Art Museum, Waterville, Maine, June 27 - September 28.

2006

Alex Katz: The Sixties at PaceWildenstein Gallery, New York, NY, April 27 - June 17.

Alex Katz Paints Ada 1957-2005 at The Jewish Museum, New York, NY, October 27, 2006 - March 18, 2007.

2007

Alex Katz: New York at the Irish Museum of Modern Art, Dublin, Ireland, February 27 - May 20.




2009

Alex Katz: An American Way Of Seeing traveling exhibition organized by the Sara Hildén Art Museum, Tampere, Finland; Musée Grenoble, Grenoble and the Museum Kurhaus Kleve, Kleve, Germany.

2010

Alex Katz Portraits at The National Portrait Gallery, London, May 13 - September 21.

Alex Katz Prints at the Albertina, Vienna, May 28 - September 19.

Alex Katz: Prints, Paintings, Cutouts at the Kunsthalle Würth, Schwäbisch Hall, Germany, October 5, 2010 - April 3, 2011.

Alex Katz at the Philadelphia Museum of Art, Philadelphia, PA, December 16, 2010 - December 11, 2011.


2011
Alex Katz at the Museum Ostwall, Dortmund, Germany, January 20, 2011 - April 9, 2012.

Alex Katz: Naked Beauty at the Kestnergesellschaft Hanover, November 25, 2011 - February 5, 2012.

2012
Alex Katz: Give Me Tomorrow at the Tate St. Ives, May 19, 2012 - September 23, 2012
and at the Turner Contemporary, Margate, October 6, 2012 - January 13, 2013.
Alex Katz: Maine/New York at Colby College Musem of Art, Maine. July 14, 2012 - December 30th 2012.


2013
Alex Katz: Landscapes at the Museum Haus Konstruktiv, Zurich, March 7, 2013 - May 12, 2013.

Alex Katz: New York/ Maine Museum der Moderne, Salzburg, March 9, 2013 - July 7, 2013.

Alex Katz / Felix Valloton Musée Cantonal des Beaux-Arts, Lausanne , March 23, 2013 - June 9, 2013.

2014
ARTIST ROOMS Alex Katz at the Tate Modern, London, April 26, 2014 - March 1, 2015.

Alex Katz: Cartoons, Drawings, Paintings at the Albertina, Vienna, May 28, 2014 - Sept 29 2014.


2015
Alex Katz: This is Now, at the High Museum of Art, Atlanta, June 21, 2015 - September 26, 2015 and at the
Guggenheim, Bilbao, October 23, 2015 - February 7th, 2016.

Brand-New & Terrific: Alex Katz in the 1950's at Colby College Museum of Art, Waterville, Maine, July 11, 2015 - October 18, 2015.

Alex Katz at the Met, at the Metropolitan Museum of Art, New York, October 8, 2015 - June 26, 2016.


2016
Alex Katz: Quick Light at the Serpentine Gallery, London, June 2, 2016 - September 11, 2016.


2017
Brand-New & Terrific: Alex Katz in the 1950's at the Cleveland Museum of Art, April 30, 2017 - August 6, 2017.


2018
ARTISTS ROOMS: Alex Katz at the Tate Liverpool, Liverpool, England, November 23, 2018 - March 17, 2019.

Alex Katz at the Museum Brandhorst, Munich, Germany, December 6, 2018 - April 22, 2019.

Alex Katz: Models and Dancers at the Lotte Museum of Art, Seoul, Korea, April 26, 2018 - July 23, 2018.


2019
Contemporary Counterpoint / Alex Katz. Water Lilies- Homage to Monet series, 2009-2010 at the Musee de l"Orangerie, Paris, France, May 14, 2019 - September 2, 2019.

THE COLLECTION OF THE FONDATION: A VISION FOR PAINTING at the Louis Vuitton Foundation, Paris, France, February 20, 2019 - August 26, 2019.

Alex Katz at the Daegu Art Museum, Daegu, South Korea, February 19, 2019 - May 26, 2019.


2020

Alex Katz at the Fosun Foundation, Shanghai, China, May 29, 2020 - August 9, 2020